With just about a week until Christmas, the gift finding process became so hectic and desperate that it seems that all the Holiday spirit has gone. And, to help you handle the stress, we've made an ultimate gift guide for every woman in your life!
1.Nourish. Protect. Renew. Zea Skin Solutions is a better together skin care system that brings out your natural skin radiance, locks in skin moisture, reduces the appearance of fine line and wrinkles while protecting skin from damaging environmental aggressors that accelerate skin aging*. With the exclusive skin antioxidant Zeaxanthin, the Radiant Skin System is based on leading skin nutrition science and formulated with naturally derived ingredients.
Each package contains Nutri-Serum with easy to use dietary supplement packets.
Choose from the 45-Day or 30-Day System.

2. Arbonne Intelligence Genius Ultra
This innovative at-home ultrasound skincare tool will be a perfect gift for anyone who wants to achieve a youthful-looking, radiant skin by maximizing all the benefits of smoothing products. The package includes full-size bottles of Arbonne RE9 Advanced Intensive Renewal Serum and RE9 Advanced Lifting and Contouring Eye Cream. The Arbonne Intelligence Genius Ultra is suitable for any skin type and shows first results in just three days.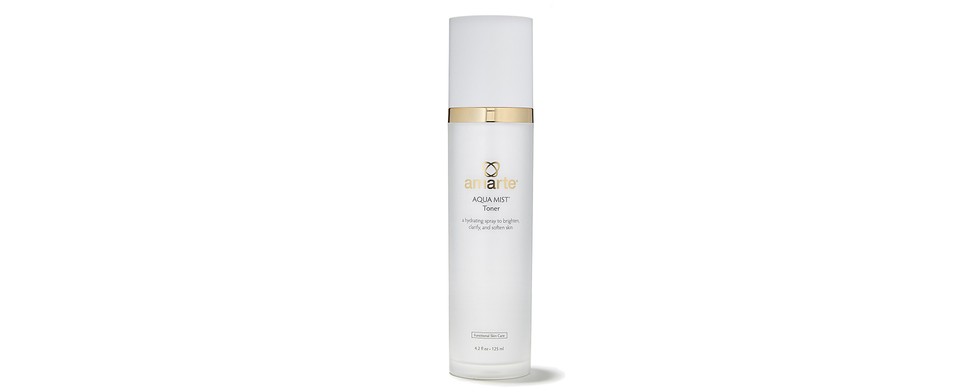 3. Aqua Cream by Amarte
Everyone loves a good brightening product, right? The new facial moisturizer by Amarte is packed with antioxidants and gives your skin a brighter, glowing look while smoothing and softening it. This Korean formulated cream helps to fight against aging thanks to retinol in its formula and provides a deep hydration and minimizes the appearance of pores, redness, and scars. 

4. Decleor Hydra Floral Anti-Pollution Hydrating Gel Cream
Incorporating essential oils into a water-based gel, this liquid formula cream hydrates, soothes and protects skin against pollution. You can also apply this cream before your spot treatment to give it an extra boost and prevent dryness.

5. Body Blur by Vita Liberata
This new self-tanning product works in all ways: blurs skin's imperfections, smooths skin, improves hydration, moisturizes, protects against free radical damage, fights signs of aging and gives your skin a velvety soft finish.

6. Amore Pacific Future Response Age Defense Serum
This serum is a perfect gift for those who doesn't need anti-aging products yet but want a little help with preventing the premature signs of aging caused by environment or lifestyle. This serum gives a hydrating boost to the skin, increases skin's absorption level, and leaves a nice matte finish.

7. Cocoa Moisture Mask by Perricone MD
First, it smells exactly like chocolate. And, it adds an extra boost of hydration, combats dryness and leaves skin luminous and radiant after just one use. And, with continued use, it provides dramatic benefits to the skin texture, hydration level, and overall skin look.

8. Age-Defying Yey Wrinkle Correcting Laser by Tria
In just two minutes a day, you can treat the fine lines and wrinkles around the eye area in the comfort of your own house – and the full result will be visible in just four weeks! To use this, you just need to cleanse the eye area, treat for just two minutes and then nourish treated area with Nourishing Eye Renewal Cream that has a metal applicator that calms skin after the treatment.

8. Merle Norman Liquid Shimmer
This liquid formula highlighter is perfect for daily wear. It has advanced HD pigment technology and a blend of micronized pigments to enhance and compliment any skin tone by naturally catching and reflecting light. You can mix it with any foundation for a soft, all-over radiance – or, you can use it to highlight a particular area.

10. Glow Matrix Advanced Skin Hydration by Neocell
This vitamin complex is an advanced skin hydrating formula that is made to hydrate your skin from within. Combining in its formulation such ingredients like hyaluronic acid, pine bark extract, lutein, coconut water and ceramides, it improves skin elasticity and moisture by up to 36% – and it will show first results in only two weeks.  
10. 11.NeuBrow by Skin Research Laboratories
This amazing serum is formulated with an exclusive Dual-Weight Protein Complex™ that restores the appearance of youthful brows and promotes shine and suppleness. You will see the difference in 60 days, as your eyebrows will be more defined and protected from further damage.

12. Arbonne Nourishing Facial Oil
Like a superfood for your skin, this oil provides superior hydration and moisture, improves the skin texture and create a radiant-looking, even-toned, glowing complexion. This vegan, no gluten formula works great on any skin type and is hypoallergenic.

13. Arbonne Cosmetics
For women in your life who are obsessed with makeup, you can go for the cosmetic line by Arbonne. We recommend trying their lip glosses available in 10 shades, and a 24-colors eyeshadow collection or dual eyeshadow kits available in six different variations. All the makeup enriched with minerals and antioxidants.
14. Tammy Fender Custom Blended Formula Skincare
Every product in this collection reflects Tammy Fender's passion for the ancient tradition of holistic medicine, and each is meticulously designed to promote wellness not only on the physical plane but also on the emotional and spiritual levels. The flowers and plants used to create our formulas are organic, food-grade ingredients that are simply bursting with Pure Living Energy®.

15. Green People Skincare
This organic, cruelty-free vegan brand was designed to provide skin care that will suit any skin type, sex, and age. The brand has a broad range of products, from baby creams to pregnancy care, grooming and hair care. We recommend trying toning hydrating mist, fruit scrub exfoliator and beauty boost skin restore that is absolutely fabulous.

16. ZO Skin Health by Zein Obagi
The anti-aging formula includes exfoliating polish, overnight recovery creme, daily power defense that protects you from everyday pollution and skin damage, and growth factor serum plus that helps to grow new young cells.
  17. GLO Brilliant™ Teeth Whitening Device by GLO Science
Nothing helps you when meeting new people more than a beautiful smile – and, sure;y, healthy white teeth! GLO Brilliant™ is a chic, sleek, innovative whitening system guaranteed to give you a whiter, brighter, more radiant smile and, what's more important, it's very easy to use. GLO Science whitening gels are vegan, safe for people with a penicillin allergy, and formulated without triclosan, gluten, soy, and latex.
There are gifts, and there are The Gifts – the most beautiful, gorgeous and luxurious jewelry by Golkonda that will make an ultimate gift for the special woman in your life. And, if a ring is not in the game for this time, we have a few other options that you might find irreproachable.
Grace Necklace (priced for $1,950,000) will be a perfect choice for a woman who's into simple yet luxurious and sophisticated styles. With 42 brilliant cut diamonds weighted 68 karats, this is a magnificent piece of art that will never go old.

Oracle Bracelet comprised of excellent triple diamonds dazzles the eye with exceptional brilliance and fire and has a total of 43 diamonds. The bracelet will make a perfect pair to Grace Necklace and is priced for $1,000,000.
Another bracelet, Constellation Bracelet, will make a perfect gift to a younger woman who's into everything fresh and flirty. It has 125 multi-colored diamonds and represents the planets and the stars, the with the interior that has the architecture of the sun and constellations. The price for this one is $250,000.
Sop get out there and get her the best gift this holiday season.
by Raina Shepeleva
---