When it comes to rooftops, there are just two major criteria: beautiful view and good drinks. We've created a list of top-10 best rooftop bars in New York City that would make a perfect setting for your weekend night out.
The Loopy Doopy
Located in beautiful Battery Park area, this atop Conrad Hotel bar is the perfect place for your romantic dinner with a gorgeous view on Statue of Liberty and New York Harbor. This bar is famous for its alcohol-infused ice pops served topped with Rose and Prosecco, delicious unique cocktails and small plates with snacks.
Refinery Rooftop
Alex Ott, a German-born booze magician, creates unique cocktails with curry powder and raspberry jam that are best served with catfish Po'boys by Chief Jeffrey Forres. The beautiful terrace with a cozy fireplace and fairy lights creates a perfect place to enjoy late dinner with a view on Empire State Building.
The Rooftop Lounge at Pod 39
Brick-swathed courtyard, fresh fruits drinks and many, many hipsters and tacos – aren't you there yet? Order specialty tequila with Moroccan lamb served with pico de gallo on roti and enjoy a nice East River view and relaxing country atmosphere.
Night of Joy
The name speaks for itself. This place reminds a lot of a marketplace in the middle of Marrakesh. Christmas lights, Tibetan flags, iron benches and the constant noise of passing by trains create a specific and unique atmosphere that would make you forget you're in Williamsburg. An extensive $10 cocktail menu along with happy hour deal makes this rooftop probably the best place to spend your Sunday night at.
Catch
Nothing can describe how we love Catch NYC located in Meatpacking. The vibes here are very laid-back and you can literally run in wearing your sneakers and do not get worried about the dress code. Slim couches, ivy walls, and twinkly lights create a relaxing atmosphere while you're sipping on a vodka champagne cocktail out of a $100 copper pineapple spewing dry ice.
Mr. Purple
This LES rooftop bar located on top of the Indigo Hotel would remind you a lot of an artist's loft with all the Mod furniture and Orchard street view. And wait until the sunset lights flickering on the tops of Manhattan buildings creating a movie set right in front of you.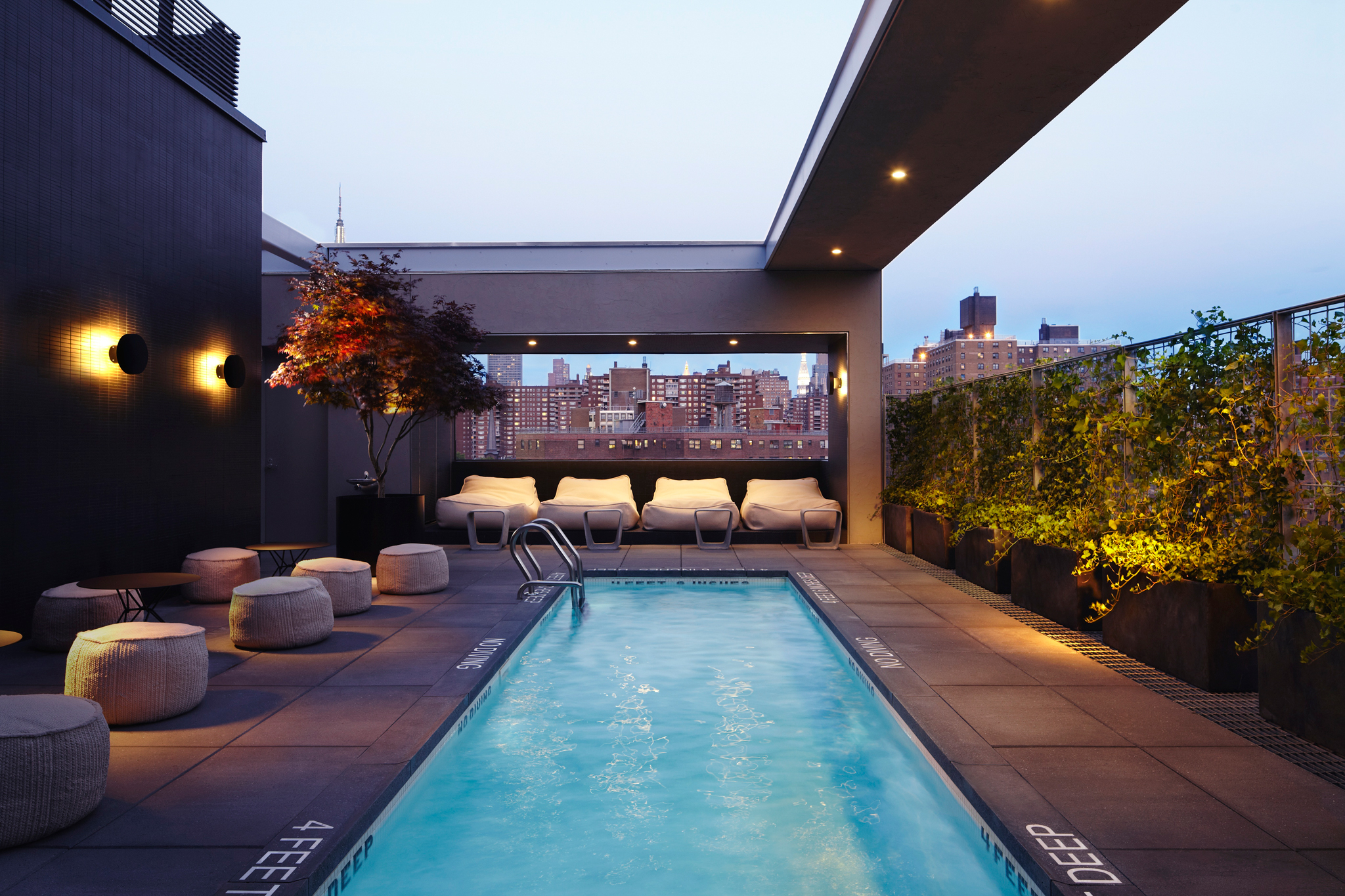 La Piscine
This Mediterranean cuisine rooftop bar with a gorgeous view on Hudson River is the best place to spend your afternoon at. With a big pool and contemporary design, La Piscine is the best place to cool off after a long race through the Chelsea galleries.
Bar 54 at Hyatt Times Square
Located in the heart of the city, this highest lounge can offer you not just the most breathtaking view of Manhattan (well, when the lights go on, the view is enough itself), but also a wide range of drinks including house made punches by Julie Reiner, along with Asian-style mini plates of miso baby back ribs and shishito peppers.
Spyglass
David Burkes' bar on the 22-nd floor of the Archer Hotel is the ideal place for a weekday lunch. The yellow-hued wallpaper and purple leather chairs create an atmosphere of 1950's glamour, along with classic cocktails and share plates of ratatouille and goat cheese parfait made at Fabrick restaurant.
PHD at the Dream Hotel
PHD is not for your unfinished graduate degree, but for the luxurious panoramic view of Manhattan at from the Penthouse at Dream Downtown Hotel. The beautiful view of Hudson River and Empire State Building along with a choice of 20 kinds of champagne makes this clubby lounge the place to be on a Saturday night. This place is always crowded, so make sure to come early.
By Raina Shepeleva
---