This generation may also approve of the brand's sustainability drive. In a post-show announcement, Chanel said the water used for the scenery would be reprocessed by the Paris sewage system and the sand recycled by the construction industry.
Chanel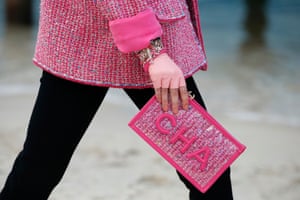 The limited edition line features espadrilles, summer bags and cover-ups. And last month the fashion house announced it had bought the British men's premium swimwear brand Orlebar Brown, whose fans include the UK's former prime minister David Cameron. The acquisition joins Eres, a women's swimwear brand Chanel bought in 1996.
Coco Chanel, the brand's founder, had a longtime love affair with the beach. She would holiday in the seaside resort of Deauville in Normandy, and the sea was a constant inspiration, with Breton tops and sailors' jackets featuring in many of her collections. She has even been credited with making sunbathing fashionable after being photographed in the 1920s after a Mediterranean cruise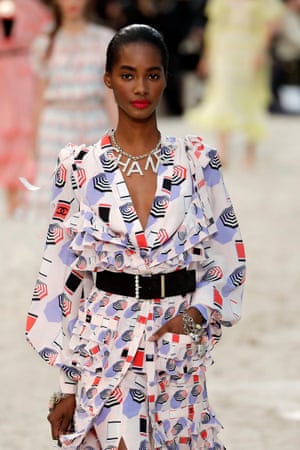 Echoes of Coco Chanel were seen throughout the collection, such as in the pearls embellishing models' belts
Until this year, Chanel's finances have been a closely guarded secret. However, in June, the brand broke with tradition and released figures revealing that revenues rose by 11% in 2017, to £7.35bn. The move has prompted speculation that the fashion house, which has been owned by the Wertheimer family through a majority stake since 1924, will be sold.
But Chanel's global chief financial officer, Philippe Blondiaux, has laughed off the rumors. He told the Financial Times in June that the company's growth "provides us with the ammunition to remain who we are: private and independent".
Lifeguards set the scene
By Melonie Wang
---