From Elizabeth Taylor's iconic rock to J.Lo's jaw-dropping engagement bling, celebrities have given us a lifetime supply of ring inspiration. No matter the stone type (we've got sapphire, emeralds, and canary yellow diamonds ahead) to the carat size (including a 40+ carat stone), there's a dazzling celebrity engagement sparkler for every sense of style. Here are the most gorgeous rings of all time as seen on our favorite celebrities, royals, and boldface names.
From stunning stones to jaw-dropping record-breakers here is the list.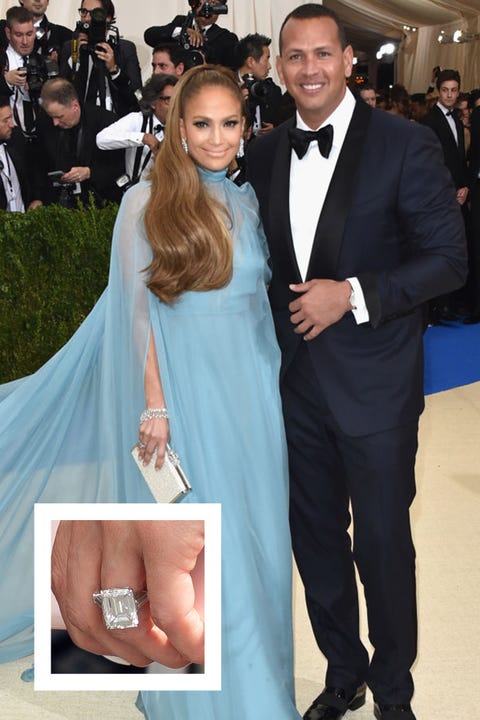 JENNIFER LOPEZ
J.Lo met her match! Alex Rodriguez proposed to his longtime love with this massive emerald cut engagement ring in March 2019. The stunning stone is estimated to be between 10 and 15 carats in size. Jewelry experts also estimate that the ring's overall price tag is somewhere between $1 to $5 million.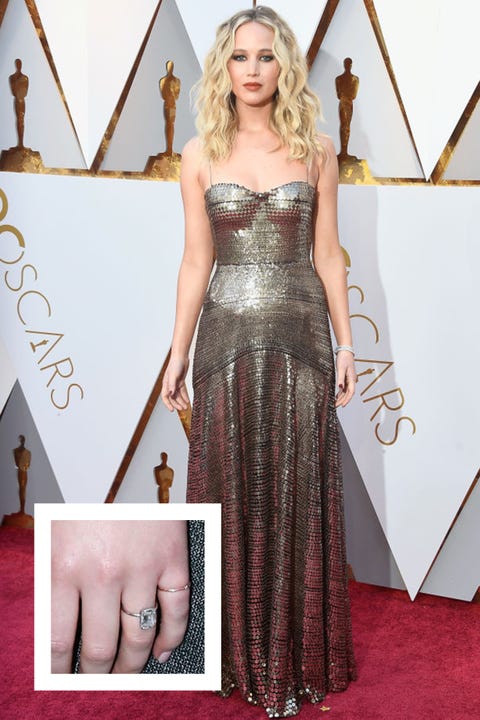 JENNIFER LAWRENCE
The actress got engaged to art dealer Cooke Maroney in February 2019. A few weeks later, Lawrence debuted her massive engagement ring, which appears to feature a four to five carat elongated cushion or emerald cut diamond center stone in a white gold or platinum solitaire setting. The ring is estimated to cost between $60,000 to $100,000, approximately.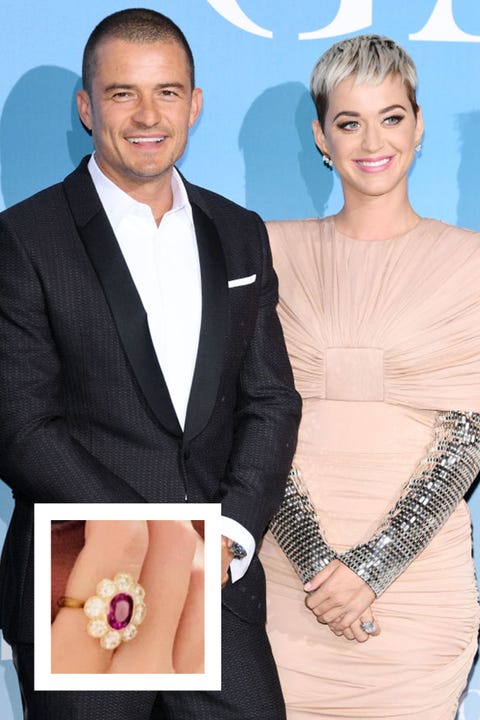 KATY PERRY
Katy announced her engagement to Orlando Bloom with a sweet Instagram post on Valentine's Day. The actor proposed with a one-of-a-kind sparkler featuring a ruby or vivid pink diamond center stone weighing between two to two and a half carats in size. The overall cost of the ring may range between $500,000 and $2,000,000 (or even more!).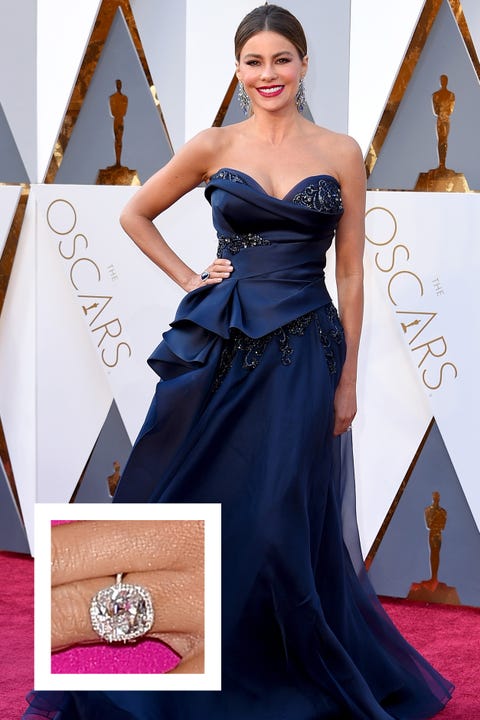 Joe Manganiello proposed to Vergara on Christmas Day in 2014 with a seven-carat oval engagement ring, Us Weekly reports. The ring is estimated to be worth $500,000, according to Vogue.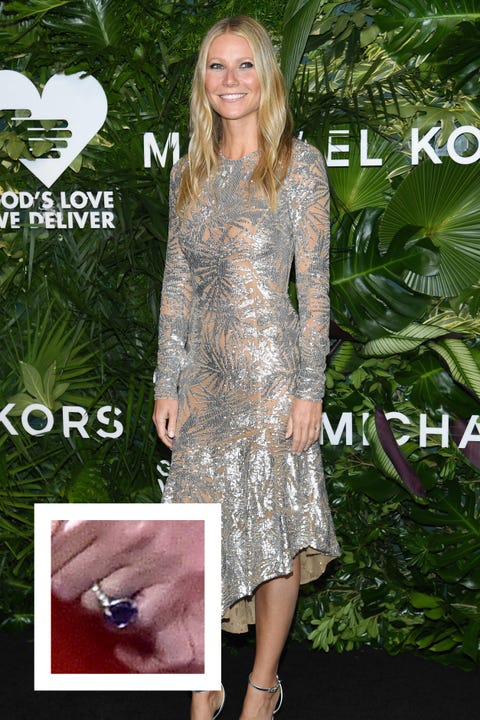 GWYNETH PALTROW
In early 2018, Paltrow announced her engagement to her boyfriend of three years, television writer, director, and producer Brad Falchuk. Falchuk proposed with a massive sapphire engagement ring, with a center stone that could be from 10 to 13 carats large, Timereports.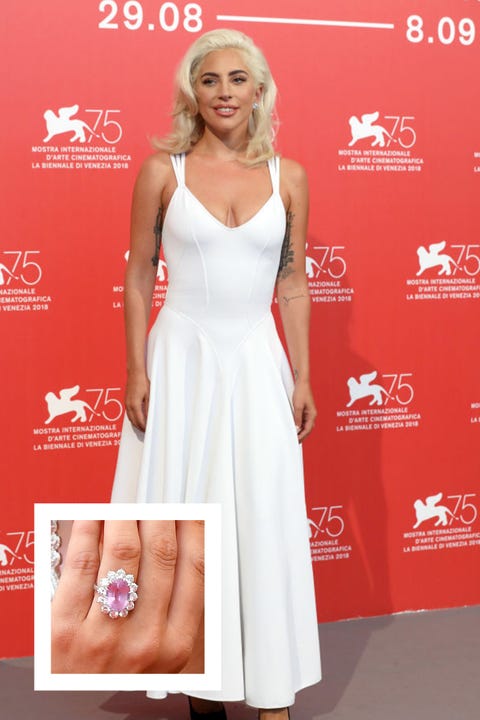 LADY GAGA
Gaga confirmed her long-rumored engagement to longtime love Christian Carino in October 2018 at the ELLE Women in Hollywood event. Gaga, who has been dating Carino since February 2017, has had her gorgeous pink ring on display for weeks now. Andrew Brown of WP Diamonds told E! Newsthat Gaga's ring appears to be a six or seven carat pink sapphire, possibly a Padparadscha sapphire, with a diamond halo that totals three to four carats. Brown estimates the ring costs between $300,000 and $400,000. Sadly, Gaga and Christian ended their engagement in February 2019.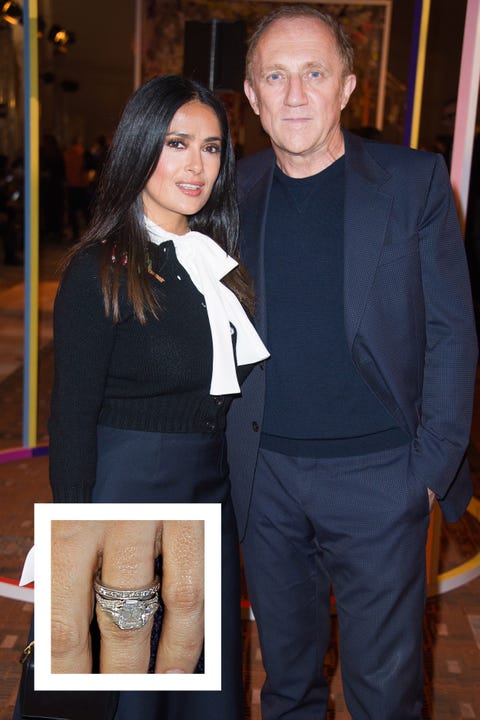 SALMA HAYEK
Salma Hayek and French businessman François-Henri Pinault married in 2009. Hayek's gorgeous engagement ring is a five-carat oval-cut center stone with two trillion diamond accents on the side, Brides reports.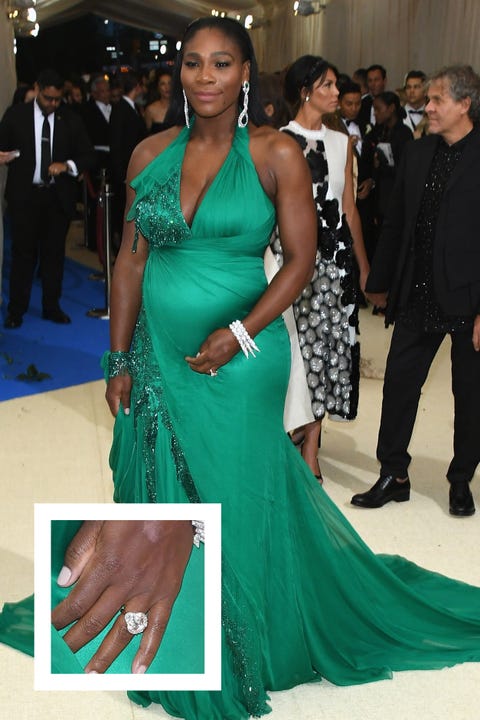 SERENA WILLIAMS
The tennis star announced her engagement to Reddit co-founder Alexis Ohanian in late December 2016, and debuted her sparkler just a few weeks later. The massive emerald-cut diamond is estimate to be over 10-carats, Business Insider reports.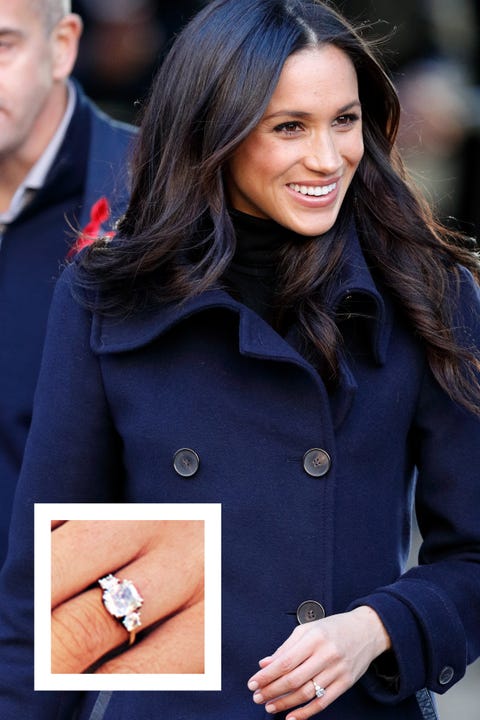 MEGHAN MARKLE
Prince Harry gave Markle this stunning engagement ring in November 2017. The ring features a 3-carat cushion cut center stonewith two side diamonds that are approximately .5 ct to .75 ct. The side diamonds belonged to Harry's mother, Princess Diana.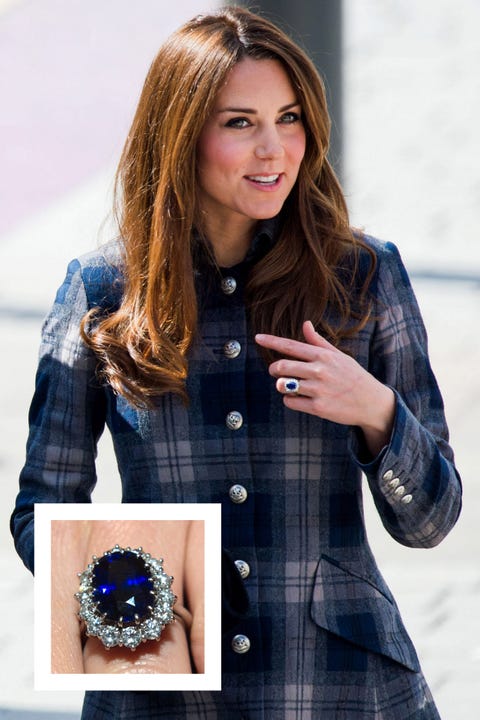 CATHERINE, DUCHESS OF CAMBRIDGE
Prince William proposed to then-Kate Middleton back in 2010 with a familiar ring: the gorgeous sapphire engagement ring that once belonged to his mother, Princess Diana.The ring features a 12-carat oval Ceylon center stone surrounded 14 solitaire diamonds created by royal jeweler Garrard.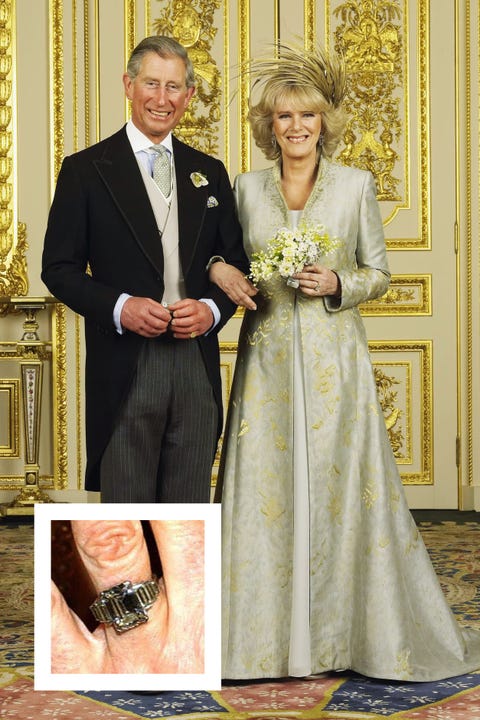 CAMILLA, DUCHESS OF CORNWALL
Prince Charles and Camilla announced their engagement in February 2005. Charles proposed with a ring that once belonged to his grandmother, the Queen Mother. The emerald-cut center stone is surrounded by six diamond baguettes and was designed in the 1920s, according to Hello! Magazi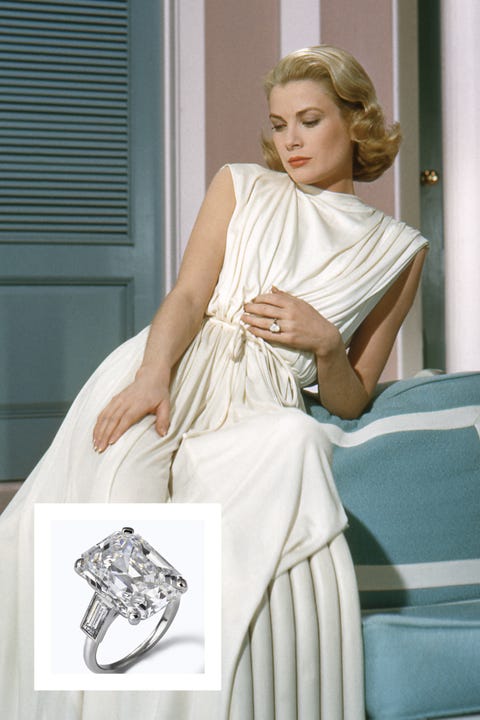 GRACE KELLY
Prince Rainier III of Monaco proposed to Kelly with a gorgeous 10.47 carat emerald-cut diamond by Cartier. The ring featured two baguette diamonds on each side. The couple wed in a fairytale wedding in 1956, and the stunning ring is estimated to be worth $4.06 million,Who What Wear reports.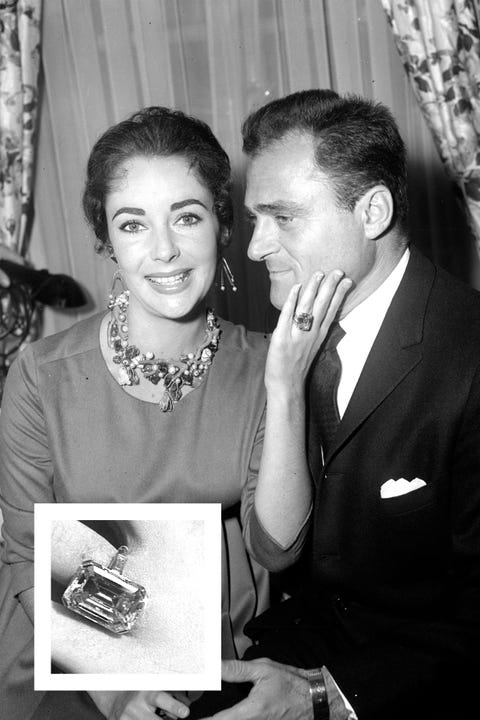 ELIZABETH TAYLOR
In 1957, Taylor married her third husband, theater and film producer Mike Todd. Todd proposed with a whopping 29.4 carat emerald-cut diamond ring, a stone so large that Taylor referred to it as her "ice skating rink," The Knot reports. It was sold at auction in 2011 for $3.7 million, according to Vogue.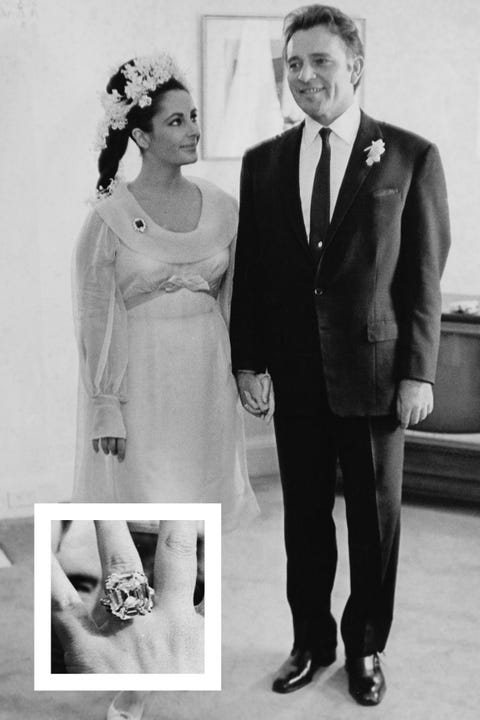 ELIZABETH TAYLOR
Taylor and Richard Burton started their decades-long love affair in 1962. Burton lavished Taylor with incredible pieces of jewelry during their relationship, including the Elizabeth Taylor Diamond, which was formerly known as the Krupp diamond. Burton purchased the 33-carat Asscher-cut potentially flawless diamond ring for Taylor in 1968. While not technically an engagement ring, Taylor wore it nearly every day, and it was sold at a Christie's auction in December 2011 for $8.8 million, Forbes reports.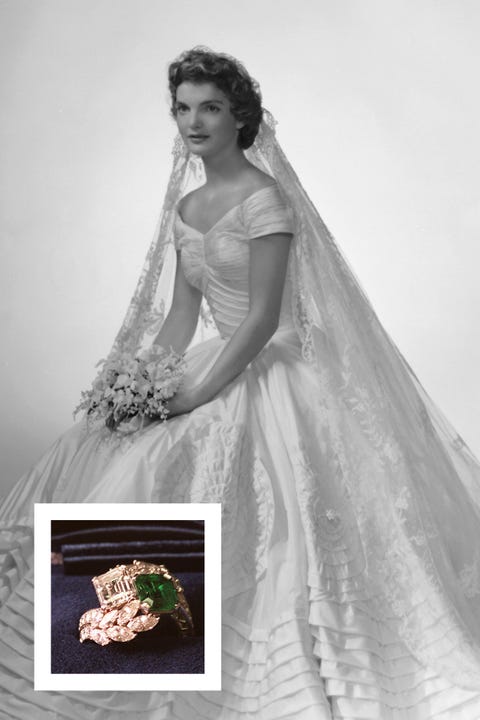 JAQUELINE KENNEDY
Then-Congressman John F. Kennedy proposed to Jackie Bouvier in 1953 with a uniquely gorgeous ring by Van Cleef & Arpels. The ring was set with a 2.88-carat diamond and a 2.84-carat emerald with diamond accents surrounding the stones, according to Vogue.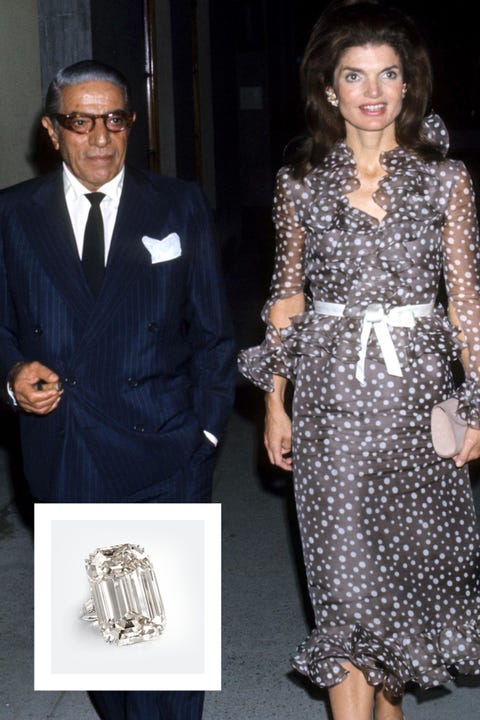 JAQUELINE KENNEDY ONASSIS
After the death of her first husband John F. Kennedy, Jaqueline Kennedy married Greek shipping heir Aristotle Onassis in October 1968. Aristotle proposed with a Harry Winston ring featuring the breathtaking 40.42 carat Lesotho Three diamond. Jackie reportedly kept the marquise cut diamond in a bank vault, and it sold at auction for $2.59 million after her death, Brides reports.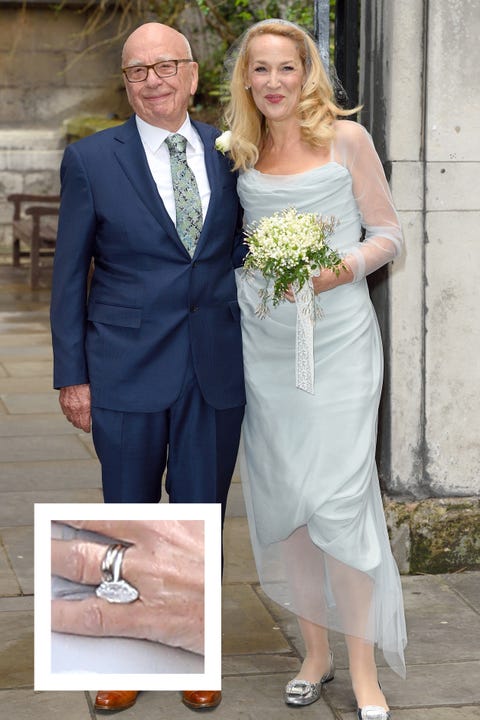 JERRY HALL
Hall and media tycoon Rupert Murdoch announced their engagement in January 2016. Hall's enormous ring is a marquise-shaped diamond on a platinum band, InStyle reports. The center stone is estimated to be a whopping 20 carats.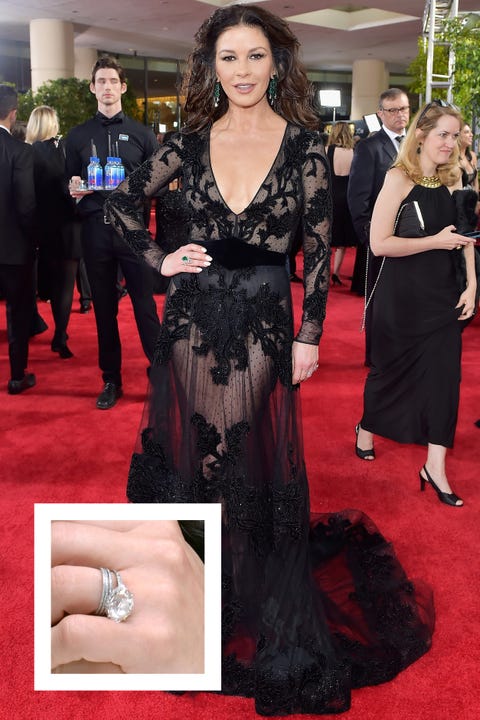 In 1999, Michael Douglas proposed to Zeta-Jones with a 10-carat marquise diamond designed by Fred Leighton, InStyle reports. The center diamond is surrounded by 28 smaller stones. The ring is reportedly worth $1 million.
So next time you looking at a Flawless rock remember there are some very one of a kind expensive choices, for the right couple.
By Melonie Wang
---